United States Five takeaways from the USMNT World Cup qualifying roster Ives Galarcep @soccerbyives Last updated 2 years ago 20:02 8/28/17 FacebookTwitterRedditcopy Comments(0)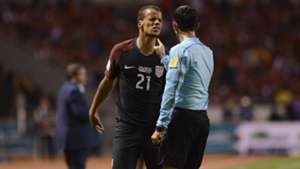 Ezequiel Becerra United States WC Qualification CONCACAF United States v Costa Rica Honduras v United States Honduras Costa Rica Timmy Chandler's absence from the U.S. World Cup qualifying squad was the biggest head-turner from an otherwise predictable side, but it shouldn't be There weren't many real surprises when the U.S. national team's World Cup qualifying roster dropped on Sunday, but if there was one, it was Timmy Chandler's absence.The Eintracht Frankfurt fullback's exclusion from the squad wasn't exactly a shock, but given the state of the USA's right-back position it raised some eyebrows.The inclusions of Omar Gonzalez and Fabian Johnson were clearly good news. Both are key options for Bruce Arena and just returned from injury this past weekend. How they factor into the U.S. coach's lineup decisions will be a big storyline heading into the upcoming qualifiers against Costa Rica and Honduras. Article continues below Editors' Picks Brazil, beware! Messi and Argentina out for revenge after Copa controversy Best player in MLS? Zlatan wasn't even the best player in LA! 'I'm getting better' – Can Man Utd flop Fred save his Old Trafford career? Why Barcelona god Messi will never be worshipped in the same way in Argentina Anyone hoping to see some new blood called in found little, though Cristian Roldan's inclusion is a very good sign considering how well he has been playing for the Seattle Sounders. His Gold Cup showing may not have been memorable, but it's tough to deny the fact he's playing some of the best soccer in MLS.Arena stuck with veterans, even bringing in some older options who U.S. fans might have thought we had seen the last of. Nick Rimando, DaMarcus Beasley and Chris Wondolowski have been playing well in MLS, and Arena clearly appreciates what they bring to the table as positive locker room influences.Here is a closer look at five key takeaways from the U.S. World Cup qualifying roster:HAVE WE SEEN THE LAST OF CHANDLER?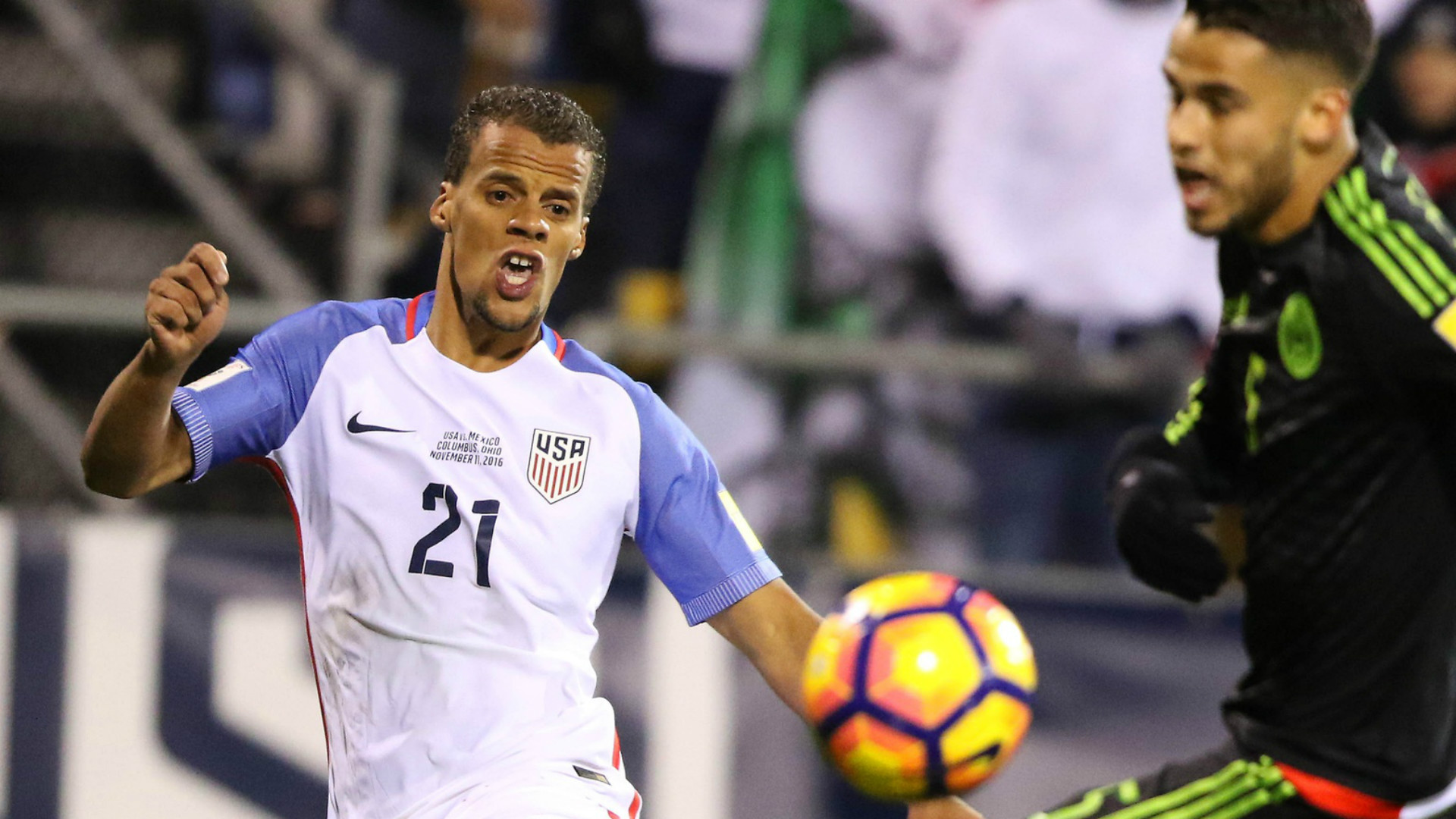 When DeAndre Yedlin went down injured earlier this month, and Eric Lichaj began his club season stuck on the Nottingham Forest bench, it seemed a given Timmy Chandler would make his return to the national team. After all, he was starting for German Bundesliga side Eintracht Frankfurt, and coming off a career year. A suspension helped keep him out of the March World Cup qualifiers, while a hamstring injury cost him a place in the June qualifiers. It seemed as good a time as any to bring Chandler in.Arena thought otherwise, choosing instead to call in Lichaj, who has managed zero starts and just 14 minutes in league play for Nottingham Forest this season. Clearly the U.S. manager liked what he saw from Lichaj at the Gold Cup, but without having yet seen Chandler in person, Arena decided now wasn't the time to bring him in.Why wouldn't Arena give Chandler a look now? It could have something to do with Chandler's abysmal track record for the U.S. in past World Cup qualifiers, most recently in the USA's 4-0 loss in Costa Rica last November – the game that cost Jurgen Klinsmann his job. Chandler was hardly the marquee scapegoat on that day – Klinsmann and John Brooks were tied for that distinction – but Chandler didn't exactly instill confidence with his showing.Leaving Chandler out of September's qualifiers due to past performances would be understandable, but it's still curious why a coach wouldn't want to bring in someone playing at the level Chandler is, especially given the weak right-back options available. Even if it simply came down to Arena preferring Lichaj, you have to wonder if we'll ever see Chandler with the national team again. After all, if he can't get a look when Yedlin is injured and Lichaj is stuck on the bench with his club, when can he?Chandler's omission is sure to revive questions about his commitment to the national team, a long-standing question mark that has existed since he chose to skip some important national team matches early in Jurgen Klinsmann's tenure as coach. Arena met with Chandler in Germany shortly after taking over for Klinsmann, and even took the step of calling in the 27-year-old for the June qualifiers before a hamstring injury sidelined him. Might Arena already be feeling as though Chandler isn't fully bought into representing the national team? That's a bit more reasonable of an explanation for Chandler's absence than believing Arena simply rates a Championship second stringer (at the moment) over a Bundesliga starter for a pair of crucial World Cup qualifiers.Only Arena knows for sure, but whatever the reason, Chandler's absence from the September qualifiers does make you wonder if we'll ever see him in a national team uniform again.CENTER BACK DECISION WON'T BE EASY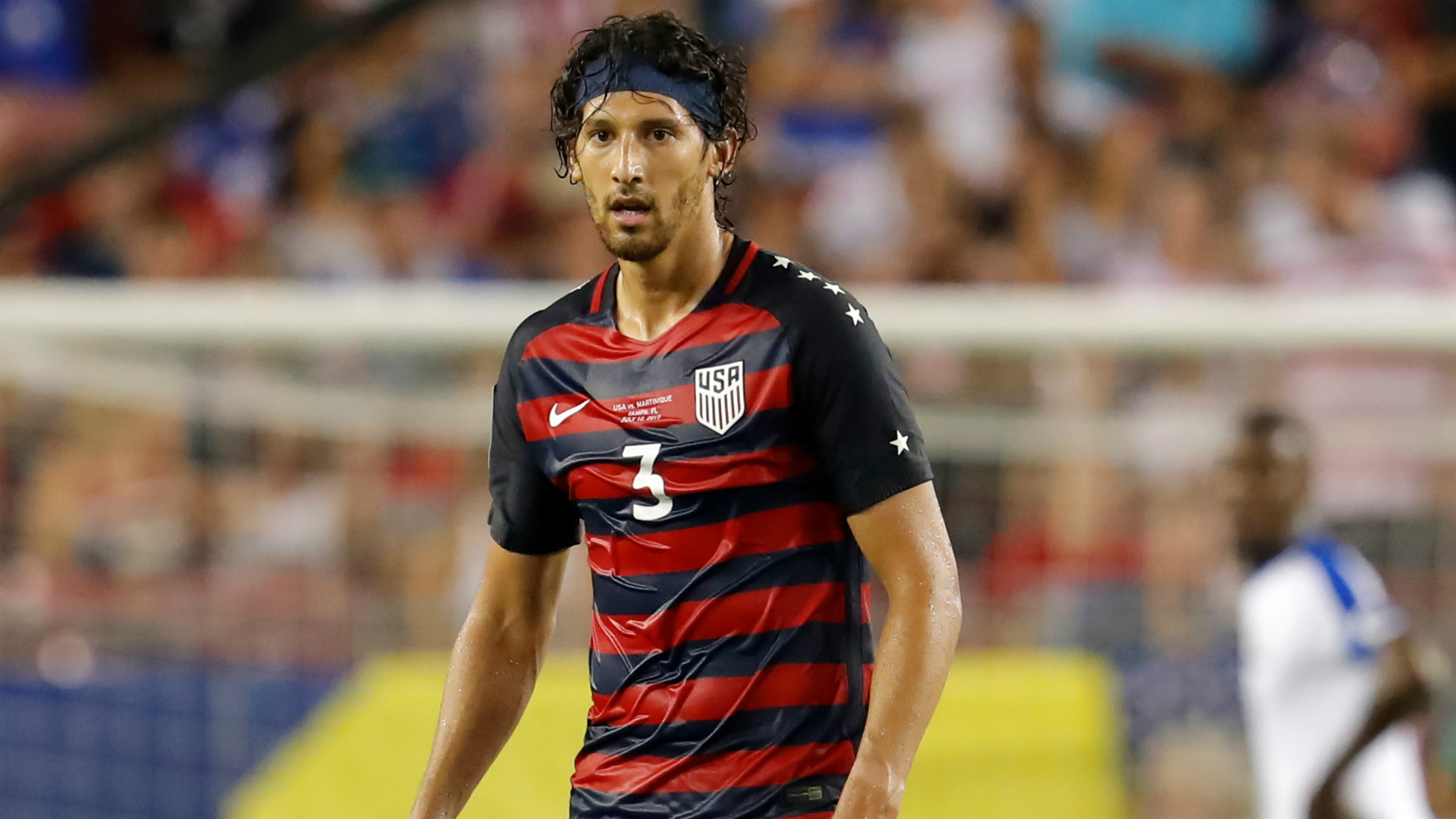 Omar Gonzalez returned to action for Pachuca this past weekend, re-entering the starting lineup after having been sidelined by an injury. It was welcome news for Arena, who was already due to be without John Brooks for the September qualifiers.Does that mean Gonzalez steps in and starts alongside Geoff Cameron? Don't be so sure. Though Arena hasn't necessarily insisted on pairing a right-footer with a left-footer at center back, Tim Ream and Matt Besler give Arena some very good left-footed options to partner with Cameron. A Cameron-Gonzalez combo might lack for quickness, which could prove costly against teams like Costa Rica and Honduras.Might we see some lineup shuffling like in June? It's a safe bet we won't see the same two central defenders in both September qualifiers for the U.S., but we won't necessarily see two completely different tandems. The upcoming qualifiers are three days apart, compared to the two-day span the June qualifiers had.There is also the possibility of Arena toying with the same three-man defense we saw against Mexico in June. Gonzalez, Cameron and Ream combined to play well at Estadio Azteca, and could be a good option against Honduras in San Pedro Sula. That could open the door for Arena to start Besler alongside Cameron against Costa Rica, a team the Sporting KC man has performed well against in the past. CENTRAL MIDFIELD UP FOR GRABS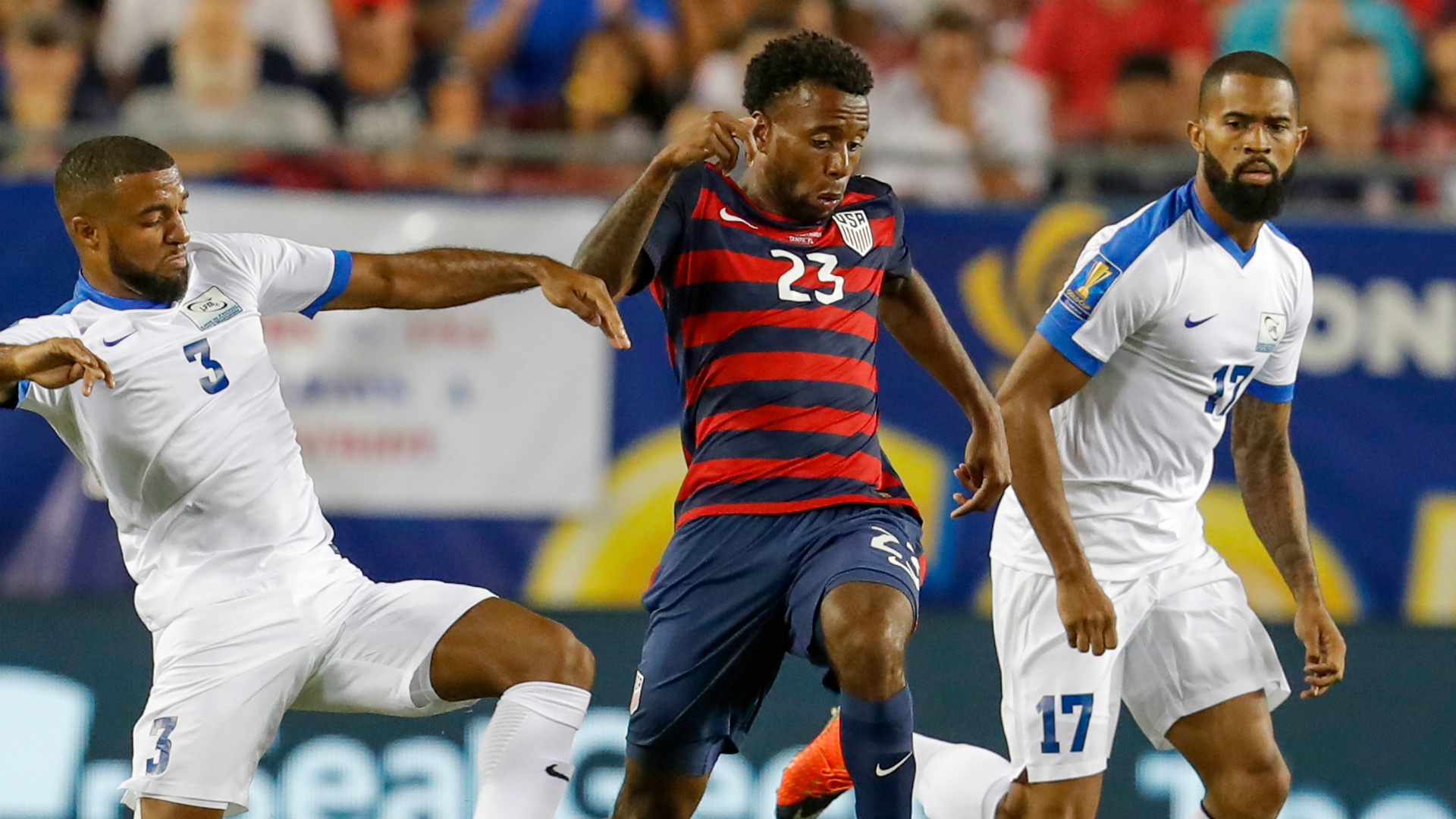 Based on how the summer went for the USMNT, Kellyn Acosta seemed like a good bet to be working his way into a regular starting role once September rolled around. However, a dip in form from Acosta, coupled with some strong surges from competitors, could leave Arena with some interesting decisions to make.We know Michael Bradley is penciled in as a starter in a defensive midfield role, but the box-to-box midfield duties appear to be up for grabs a bit. Acosta hasn't been playing his best in recent weeks, a stretch that has coincided with FC Dallas' own struggles, while Dax McCarty has remained a consistent force even amid the Chicago Fire's recent slump.Then you have Roldan, who has been lights out for the Sounders since returning from Gold Cup duty in July. The third-year pro has become a true box-to-box presence, increasing his attacking contributions while continuing to develop a real feel for the game. A lack of national team experience seems likely to keep Roldan from really mounting a challenge for a starting spot, but his time appears to be coming.Could Arena choose to go with a very attack-minded midfield, and eschew a box-to-box option in favor of Darlington Nagbe in a 4-4-2 diamond midfield, with Christian Pulisic deployed on the wing? Nagbe has shown himself to be so adept at getting and keeping possession that he can help control a game just as effectively, if not more than any true box-to-box option in the current pool could.And what about the 3-5-2? If Arena is going to consider bringing it back, will he have faith in Acosta or McCarty being able to handle the role alongside Bradley? Acosta has shown some promise there this summer, but he doesn't quite have a hammer lock on the position.FORWARDS APLENTY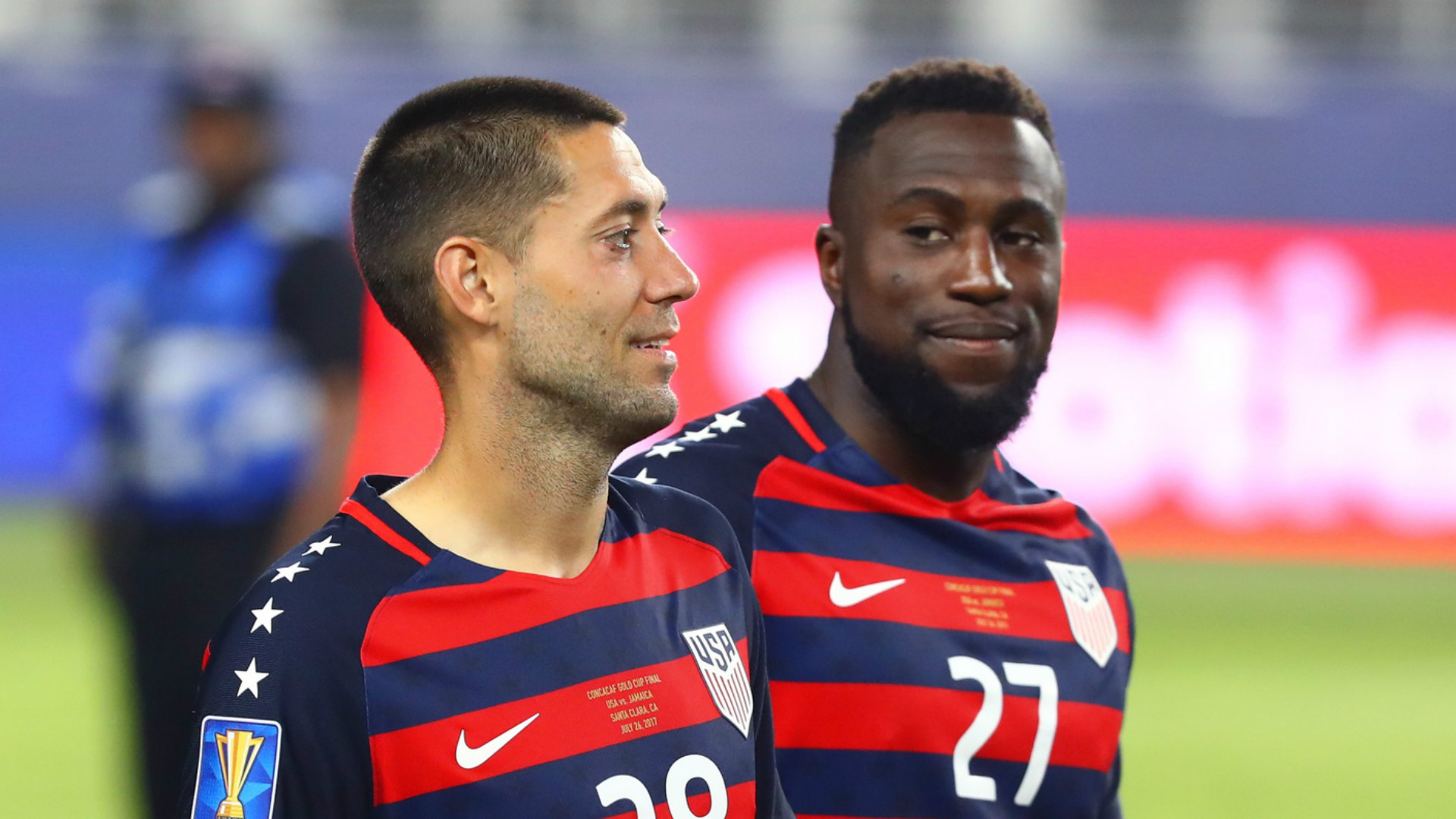 Who starts up front? Arena finds himself asking the same question he asked in June. Back then he went with a Jozy Altidore-Clint Dempsey pairing in the first qualifier, then Wood in place of Dempsey in Mexico City.A similar rotation seems likely this time around, especially given how well Dempsey has been playing. At his age, he isn't someone who'll be expected to manage two international starts three days apart, so Arena could be left with the decision of either starting Dempsey against Costa Rica's tough defense, or saving him for the demanding environment in Honduras. Either way, Wood gives the U.S. an in-form option in his own right.And what about Jordan Morris? The Gold Cup hero makes for a perfect super-sub option, with his speed being a real threat late in matches.There were definitely some questions asked when Chris Wondolowski earned the call-up ahead of Dom Dwyer, who showed real promise at the Gold Cup. Wondolowski has been in good form in MLS play, and also has more international experience than Dwyer, though you could argue he hasn't done much with the opportunities he has had while Dwyer impressed right out of the blocks.WHERE WILL FABIAN JOHNSON PLAY?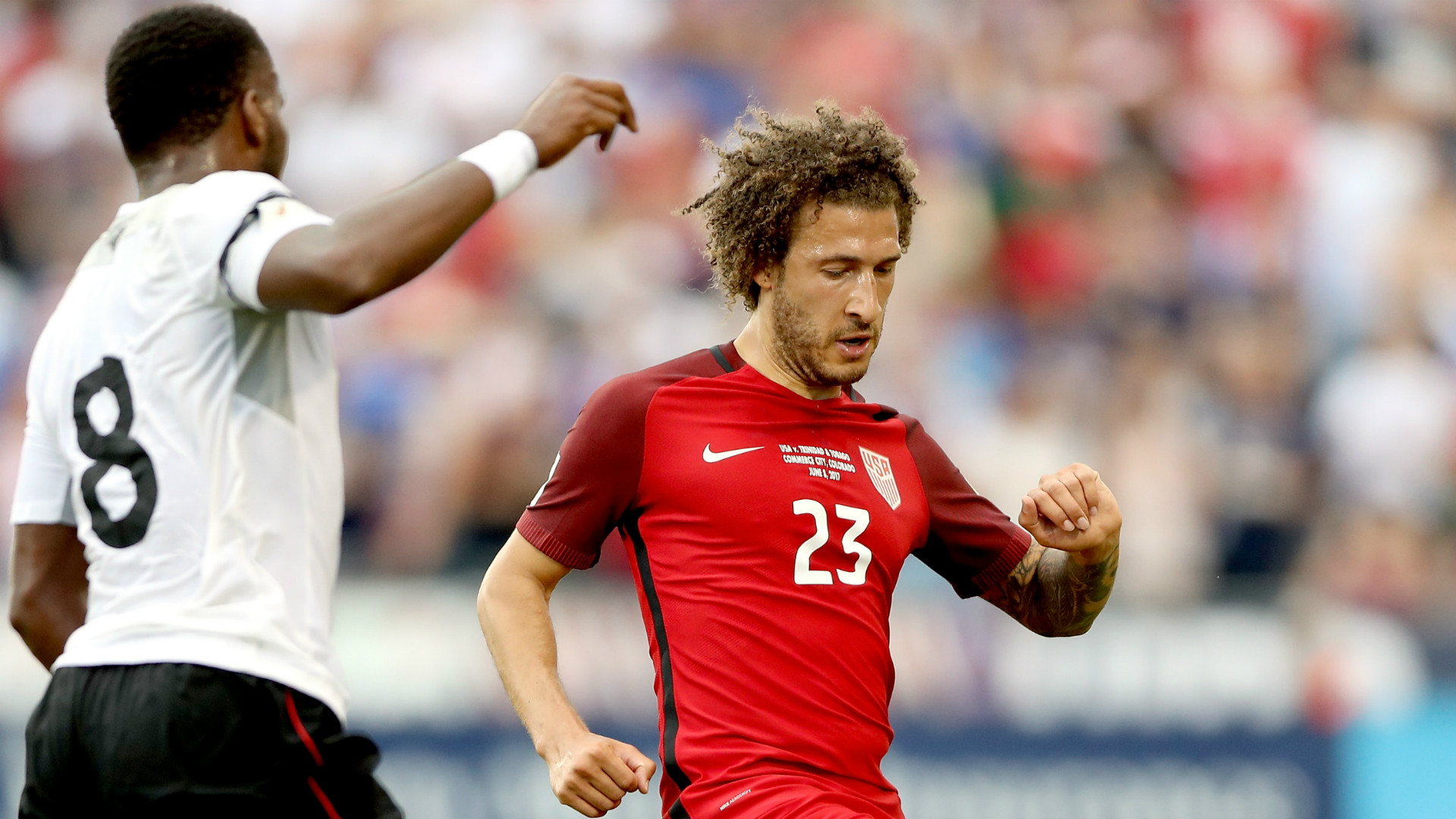 Fabian Johnson's return from injury is a blessing for the U.S. for a variety of reasons. It isn't just the kind of attacking weapon Johnson can be, but also what his presence could mean for other players.The U.S. is light in wing options, and Johnson gives the Americans a player who can play on either flank. His presence could give Arena the ability to play Pulisic in a central role, or he can choose to play Johnson and Pulisic across from each other, as interchangeable wingers. Without Johnson, Arena would almost certainly have had to play Pulisic wide, but with Johnson around, it makes Pulisic a bit tougher for opponents to pin down.By now we have figured out that Johnson is fragile, with the list of injuries he has endured over the past three years as long as that of any other player in the U.S. pool. Given that knowledge, will Arena really start Johnson in both qualifiers or try to focus him in on one match? Johnson has yet to play a full 90 minutes for his club this season due to injuries, and hasn't actually started a match since the U.S. World Cup qualifying win against Trinidad & Tobago in June.With that in mind it's probably unrealistic to think Johnson can start in both September qualifiers, and maybe even a bit ambitious to assume he can even start one of them.
read more